Continuing Education For Business Professionals
Presented by: Paul Migdal, Esq.
 

Would want him on my team.
Thornton Guild
American Mutual Insurance Group
Honolulu, HI
 

Paul was an outstanding instructor — I wouldn't change this presentation. Great examples, very clear, great take away examples to share with insureds. Thank you!!
Joseph DeLucchi
CAL Insurance & Associates, Inc.
San Francisco, CA

Who Should Attend?
Agents/Brokers (Courses qualify for insurance CE units)
Attorneys
Accountants
Business Professionals
Risk Managers
Fraternal Organization Members
Trade Association Members
---
Why Paul Migdal?
Paul Migdal, Esq. is an experienced public insurance adjuster, disaster recovery consultant, attorney, insurance industry insider, and is a Principal with The Greenspan Co./Adjusters International. With more than 40 years of experience in the insurance industry, Paul is a recognized expert on the topics of insurance, risk management, financial recovery and claims.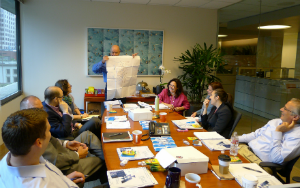 In Paul's continuing education classes, he shares valuable knowledge about how insurance policies and types of coverage actually apply in different disaster scenarios. Insurance concepts and details are presented clearly and with examples, so insurance agents & brokers and other insurance and business professionals are more successful when a fire, flood, collapse or other disaster strikes the insurance policyholder.
Paul's teaching style is conversational and entertaining and his courses consistently earn A+ reviews from participants. Approved by the Departments of Insurance for Arizona, California, Nevada, and other states as well, Paul's roster of CE courses is growing. In addition to Paul's qualifications as an experienced attorney and licensed public insurance adjuster, Paul has several teaching credentials. These include accreditation as a college-level educator by the California Department of Education and Paul has taught at several colleges. Paul is frequently invited to speak on insurance topics at industry conferences and teach CE courses at insurance brokerages across the Western States. Audiences include: Arthur J. Gallagher & Co., CPCU Society, IBA West's Big "I" Day, IIABCal, General Southwest Insurance Agency, International Assoc. of Insurance Professionals, InterWest, NV Independent Insurance Agents Assoc., Willis Insurance Brokers, and many more.
---
Courses are available for groups, professional associations and individual firms. Paul is experienced as a participating keynote speaker or panel member and is an excellent addition to your breakfast, lunch or dinner meetings. Attendees earn Continuing Education Units for these Property & Casualty courses.
To schedule an accredited or custom-tailored course, or for more information, please contact: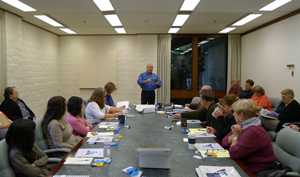 Rich Hallock, MBA
Director of Marketing
(800) 248-3888 or e-mail: rich@greenspan-ai.com
Paul Migdal, Esq.
Senior Vice President/General Counsel
(800) 248-3888 or e-mail: paul@greenspan-ai.com
---
Continuing Education Course Offerings:
PM01: Business Income Insurance & Disaster Recovery (3 CE)
Course Description
As a participant in this CE class, you will learn how to protect insurance policyholders from catastrophic loss of income. You will gain insights and proven techniques from a licensed public insurance adjuster with decades of experience across the US and internationally. You will learn how to determine loss amounts through case study exercises of actual losses. This class explores and demystifies the complexities involved in business interruption claims.
Pre-loss: study and understand the nature of the business and its income. Learn to identify conflicts of interest, particularly those that can reduce the settlement amount. Post-loss: do both sides of the negotiation hire their own forensic accountants? Who researches balance sheets and business plans to accurately present earning potential in "what if" scenarios to the insurance company? Who negotiates the differences between the insured's and the insurance company's calculation of loss? Successful insurance recovery can be the difference between resuming operations or closing. Paul Migdal, Esq. provides the framework and examples from his own experience so insurance professionals will be better able to specify the right types and amounts of business income insurance for policyholders.
One of the best statements about this subject reads:
"Every business interruption insurance claim is different and each has its own specific area of difficulty. Whenever anyone is required to 'predict what would have happened,' there is always a degree of 'grayness!' Each loss/claim must be assessed based upon its own specific circumstances, the exact insurance wording in effect and the insured's normal business and operating practices. Unfortunately, there are no absolute rules which apply in all situations to often contentious business interruption insurance issues." As quoted from "Business Interruption Insurance 'Its Secrets Revealed'" by Paterson, Jamieson & Arnet, July 1996.
 

Valuable information for any insurance professional.
Catherine Cerbo
Agri-Center Insurance Agency
Fresno, CA
Close
PM02: Property Insurance Issues (3 CE)
Course Description
This class gives you an overview of property insurance issues and challenges, so that you are better able to recommend the right types of coverage for your client's unique situation. Specifically, the concept of "insurable interest" is explained and supported with examples (homeowner, business owner, rental property, etc.) with the intent of helping you avoid the pitfalls of recommending or purchasing coverage that is different from the intent of the parties. Paul delves into the complex and often misunderstood realm of actual cash value, replacement cost, and co-insurance.
Every property insurance policy brings into play a myriad of questions and issues, including but not limited to: Who may insure the property? What is the nature of the property which may be insured? To what extent may one insure their property interests? Since insurance policies don't fully address all of the issues, this class provides a framework to identify and eliminate potential gaps in coverage.
 

Always enjoyable, thought provoking & a great learning experience
Toni Heyneker
G2 Insurance Services
San Francisco, CA
Close
PM03: FEMA Funding & Insurance Recovery (3 CE)
Course Description
Large-scale disasters are not uncommon and range from earthquakes and wildfires to snowstorms and tidal waves. Disasters regularly prompt a Federal declaration of a disaster area and this has a dramatic effect on insurance. In a declared disaster, local government, tribal government and eligible non-profit organizations (hospitals, schools, and municipal works) can apply for financial assistance through FEMA's Public Assistance Program.
Lessons from this class will enable you to play a valuable role in protecting your client or organization from financial disaster following a physical disaster. Having good insurance coverage in place and understanding how FEMA works is essential to securing, and keeping, Public Assistance Program funds.
 

Instructor made content accessible and intriguing. Kept my attention throughout, was a great learning experience.
Simone Youngblood
McClatchy Insurance Agency
Sacramento, CA
Close
PM04: Public Insurance Adjuster: Major Claim Issues (1 CE)
Course Description
What happens when a fire, earthquake or other peril causes major property damage? Even with insurance, too many businesses are overwhelmed by major damage and fail in their recovery efforts, thus forcing them out of business. You will learn how to help organizations avoid this fate by having the right kinds of coverage and by having vetted experts on call.
You will learn the landscape of a major property damage insurance claim. Who are the parties involved and what role does each play? What are their motivations and where are the apparent, and the hidden, conflicts of interest that can dramatically reduce the settlement payment? As a public insurance adjuster and insurance industry insider, with decades of experience, Paul Migdal, Esq. details how to successfully navigate major insurance claims, so you are prepared when disaster strikes. In addition, the class addresses policy types and endorsements that have proven to be essential in the event that a policyholder faces a major property claim. These include: extra expense, expedited expense, code & ordinance, payroll, etc.
 

It was great, really appreciate in-house CE.
Diane Pinter
Arthur J. Gallagher & Co.
Glendale, CA
Close
PM05: Business Insurance – Advanced (3CE) NEW
Course Description
Business Insurance – Advanced is a course that delivers a detailed understanding of the relationship between property insurance and business income insurance in the context of insuring against and overcoming major property damage. Course participants will learn how to insure different types of organizations, with different income profiles, with the goal of properly insuring organizations and avoiding gaps in coverage. Sections include: business income insurance and extra expense, civil authority, extended period of indemnity, duties in the event of loss, coinsurance, agreed value, covered causes of loss, etc.
This course includes an in-depth review of commercially available policies and examples of manuscript policies. Participants will also learn what goes into successfully proving an insurance claim and how an effective roadmap to recovery can achieve a favorable insurance claim outcome.
Close
PM06: Property Insurance – Advanced (3CE) NEW
Course Description
Property Insurance – Advanced presents and explains the most important aspects of commercial property insurance, including causes of loss and how to successfully prove the insurance claim. Instruction covers a detailed analysis of commercial property coverage forms and causes of loss forms. Valuation of property, and the different methods of determining values, will be addressed and included in the instruction on how to determine adequate limits of insurance to meet different policyholders' needs. Course sections include: Building and Personal Property Coverage Form, Commercial Property (ISO CP 00 10), Property Not Covered, Causes of Loss, Proximate Cause, Concurrent Cause, Analysis of causes of loss forms (ISO CP 10 30), Basic causes of loss form (CP 10 10), Broad causes of loss form (CP 10 20), Special causes of loss form (CP 10 30), and more.
Our extensive experience preparing, presenting, and negotiating insurance claims provides an unparalleled understanding of how insurance policies are put to the test. We share these insights with participants throughout the course. Integral to the topic is our effort to help brokers identify and avoid issues that could conceivably result in use of their errors & omissions coverage. Avoiding gaps in coverage, coinsurance penalties, and underinsurance are important objectives of this course.
Close
Additional courses coming soon:
1. Avoiding Errors & Omissions for Insurance Agents and Brokers (3 CE)
Course Description
Protect your clients, your organization and yourself by avoiding the mistakes that leave risks exposed and derail the insurance claim payment. Learn from Public Insurance Adjusters who see hundreds of insurance policies put to the test each year by fires, water damage, earthquakes, theft and other perils.
When is a policyholder covered and when are they suddenly exposed? This class details areas where different kinds of mistakes are made, so you can avoid such dangers. Importantly, the class also provides insights and practical steps to identify obvious and hidden insurance needs. This helps the organization purchase insurance coverage that can withstand a major claim and the professional scrutiny that suddenly comes from all sides.
Close
2. Causes of Loss and Exclusions (3CE)
Course Description
Insurance protects people from financial devastation from covered perils — except when it doesn't. You will learn how to identify risks, successfully insure against perils, and avoid exclusions and denials of coverage, so your client and your organization can achieve a favorable insurance recovery.
What perils and threats can be covered by insurance? And what exclusions can deny payment when it is needed most? Learn how insurance policies apply in different disaster scenarios. Learn the language of insurance policies so you can interpret and understand what is meant, so you can recommend or purchase the most effective coverage for your budget.
Close