Restaurant Insurance Claims Help
…Through your efforts we ended up securing a settlement in excess of 2.5 million dollars. Prior to hiring your firm, the insurance carrier had initially evaluated our loss at approximately $500,000. Our only regret is that we did not retain your firm at the beginning of the adjustment process. …As a result of your efforts, we now have a restaurant that is even nicer than what existed prior to the fire. …
Hubert Keller, Chantal Keller & Maurice Rouas
Owners, Fleur de Lys Restaurant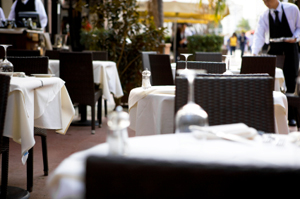 You just suffered serious damage to your restaurant and you are wondering what to do next. You call your insurance carrier and wait for an adjuster to come out hoping they will have your best interests at heart. After all, they accepted your premium for years in a very nice way. Now you expect that they will "do the right thing."
You will soon discover that you've moved from the asset side of your insurance company's ledger (you paying your premiums on time) to the liability side of their ledger (they need to pay you for your damages). Often, the money they owe you now will far exceed any premium payment you paid or would pay in the future.
Knowing everything you possibly can about the "fine print" of your insurance policy before you have any substantive dialogue with your insurer is an absolute necessity. Know what you are covered for and how to claim it. What you say to your insurance company's adjuster and how you say it can make a dramatic difference in how much you get paid. The more you know, the better the results.
---
Factors to Consider
When filing a restaurant insurance claim, there are many factors that need to be taken into consideration. To help you navigate the process, we have put together several talking points for you to review. Having a full understanding of each of the below bullet points is crucial to documenting, filing, and successfully settling your insurance claim. If any of these questions give you pause, please feel free to reach out to us for a no-cost discussion about your claim.
Frequently insurance companies use independent building and equipment consultants on large claims to prepare a bid. Who are these consultants? Who are they working for? Do they only work for insurance companies? Why this should be a red flag.
Is there coinsurance in your policy?

If there is, what does it mean?
If there is, did your insurance adjuster tell you? If not, why not?
How is coinsurance calculated on replacement cost? On actual cash value?
Properly managing coinsurance can prevent disaster. Not properly managing coinsurance can put you out of business!

Replacing versus replacing equipment. Pros and cons.
Additional Items to Consider
Temporary locations? What happens at the end of your claim?
How do the smoke and the water used to fight the fire affect your equipment? Your computers and other electronics?
Hazardous materials such as asbestos and lead can be expensive to address. Make sure your insurance carrier does not cut corners when addressing this issue.
Code Upgrade coverage is very important when rebuilding after a fire. How does your coverage address codes? If your coverage is limited, is there anything you can do about it?
Warranties and Protective Safeguard Requirements. What do they mean? What if you are not in full compliance? Can you still collect?
What happens when the insurance company engages a forensic accountant?

What is his/her role?
Why can't you just have your accountant prepare your claim?
What is the harm in sharing your financial statements?
Are you required to produce your tax returns?
Can you recast your financial statements? If so, why?

What are expediting expenses? How do they differ from extra expenses?
What are extra expenses? What can be included?
How do you project lost sales? Sales declines?
How are tips treated? Are they considered continuing payroll?
You own multiple restaurants in a geographic area and sales go up at other locations as a result of the fire. Does the insurance company get credit?
Title 24 and handicap bathrooms, bars, seating and dance floors. What does it mean to you? Your claim?
Can you continue to pay your employees?

"Ordinary" employees versus "key" employees. How do they get identified? What is covered?

What is your broker or agent's role?

Will he/she be adjusting the claim?
How many claims has he/she handled?
Will his/her role be active or passive?
When faced with supporting your position or the insurance company's, where will he/she stand?

See the commercial "Factors to Consider" for more you need to know about commercial insurance claims.
Close
Insights for Your Industry™
As our commitment to the restaurant industry, we publish "Insights for Your Industry™" focused on restaurant issues. We feel these focused pieces may be of value to your organization. Click on the image below to read or download each article:
---
The Greenspan Co./Adjusters International Can Help
Since 1946, The Greenspan Co./Adjusters International has been actively helping restaurant owners recover from catastrophic damage which, if not handled properly, might put them out of business. Don't let the insurance company take advantage of you, and give you less than you deserve under the terms of your policy. With our years of experience and knowledge combined, our experts will secure the maximum allowable recovery from your claim, while allowing you to do what you do best…focus on your business.
Our team will help you get everything you're entitled to by:
evaluating your policy to establish the best possible strategy for presenting your claim to the carrier;
valuing, documenting and substantiating every detail;
negotiating on your behalf with your insurance company;
keeping you informed every step of the way; and
ultimately settling the claim for the maximum amount and with less hassle for you.
Our focus during the recovery process is on the well-being of your business. And it stays that way until everything is back in pre-loss condition. We have a long list of satisfied clients who put their trust in our expertise and who can attest to the fact that we stick by our core principles, the first of which is to always look out for our clients' best interests. We are proud to put you in touch with our references. Chances are you will recognize many of them. Read what they wrote about us. After all, who really knows better than someone who has been through it before?
---
Restaurant Client References
In addition to almost 5,000 references on our list, some well-known names in the restaurant community:
Cattleman's
Fratelli Ristorante
Gladstone's For Fish
Globe Restaurant
Hamburger Hamlet Restaurants
L'Auberge Chez Francois (Case Study)
Left Bank Restaurant
Macayo's
Mateo's Restaurant
Nicky Blair's Restaurant
Paul Diamico's Restaurant
Stevens Steak House
Ye Olde Lobster House
---
If you're suffering from a property damage claim, we can help! Contact us or fill out the form below: